Google Street View Is Helping Scientists Spot Methane Leaks
Methane is pretty much invisible to humans' senses of sight and smell. As the second most prevalent greenhouse gas in America, methane leaks pose a significant challenge in the fight against climate change—mostly due to the fact that they are notoriously hard to detect.
Since our human senses don't tingle at the hint of a methane drain, a team of scientists and technology experts have figured out a way to effectively play 'spot the leak.' Part of a collaboration with Google, researchers from the Environmental Defense Fund and Colorado State University have been using the tech giant's Street View cars to trail methane levels in big cities across the U.S.
The project, which is described in a research paper published by the American Chemical Society in the Environmental Science and Technology journal this week, involves equipping Street View cars with sensors to chase down methane leaks under metropolitan streets.
The problem with methane leaks can be traced back to the 19th century and a couple of feet below the streets of American cities like Boston and Chicago, where thousands of miles of cast-iron and steel pipes are buried. Originally built to host cooking fuel, the often-outdated infrastructure also distributes natural gas to homes—and, in many areas, results in harmful leaks in the process. According to the paper, methane contains 80 times the warming power of carbon dioxide over a 20-year period, but replacing even a mile of the pipes can cost up to $2 million. The researchers conclude that a tracking model could help utility companies prioritize serious leaks and tackle potential problems more quickly.
The paper argues that urban natural gas pipelines haven't received much academic attention, and the problem is exacerbated by the lack of reliable data concerning methane leaks. In an interview with the Washington Post, the lead researcher Joseph von Fischer pointed out that there have only been "a handful of studies" on the subject matter, explaining that it's "very labor-intensive to measure the leaks from the distribution system."
The fleet of cars is one way to make that easier. The sensor-equipped cars roamed through Boston, Burlington, Chicago, Dallas, Indianapolis, Jacksonville, Los Angeles, and Staten Island and Syracuse in New York. The researchers then mapped the results, illustrating clusters of leaks.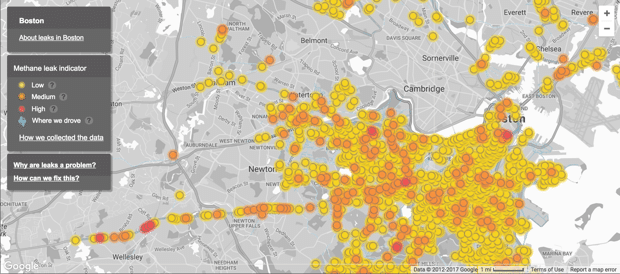 As depicted in the maps above, there's a striking difference between Boston and Indianapolis. The researchers found that the leaks tend to cluster in cities with older pipes, like Boston, which saw hundreds of thousands of leaks. Indianapolis, which overhauled its pipes in the 1980s, recorded less than a dozen leaks.
These maps can be extremely helpful as their data offers a guide for prioritizing gas line replacements. With direct input from the team's early research, the New Jersey Board of Public Utilities approved a three-year, $905 million plan to replace up to 510 miles of its old pipeline. While you'll only see these cars in a handful of cities so far, Google is currently setting up more cars to map other parts of the country.